Departments and Organization
In view of the increasing needs for management consulting services, Sun Rise Consulting Co., Ltd. and Sun Rise information Co., Ltd. were established in July 1991 and February 1994 to provide integrated services to our clients. Major consulting services are in the areas of human resources, accounting, management systems, corporate finance, international investment, and information technology.
"Teamwork" has been recognized as a driving force for the success of the firm. To realize our unwavering commitment to provide integrated and multi-disciplined services to clients, we organize our departments according to their respective function, which meets the needs of our clients; the main responsibilities of each department are introduced in subsequent sections.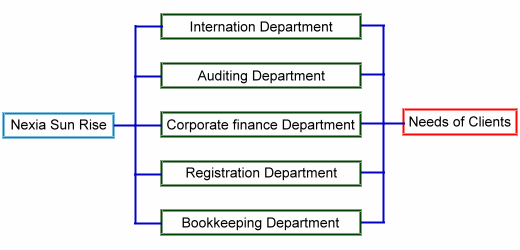 There is rather a humorous story, which reveals the importance of integrated services :
A man had his arm shot by an arrow, and went to see a doctor for treatment. The doctor cut off the arrow and spoke to the patient indicating that surgery had been done. The patient should find an internist for the arrow within his arm. From the story, we can see that every transaction could relate to various aspects such as legal, taxation (including Value Added Tax, Income Tax, Land Tax, and Estate Tax), accounting, auditing, cash flows, registration, management, financing, etc. Considering only one aspect might actually hinder our goals! As a result, Sun Rise provides integrated and multidisciplined services to clients.